I Am T-Pain
Hear the best and the worst singers from around the world T-Pain'ing their hearts out on the I Am T-Pain World Globe on your iPhone, iPad and iPod Touch, and online at http://iamtpain.smule.com

Listen To the World
Hear and see the most recent tracks from users around the world on the I Am T-Pain globe. Let the globe choose for you or select from the list.

RIP XXXTENTACION
about 2 hours ago

all my friends are bread
about 2 hours ago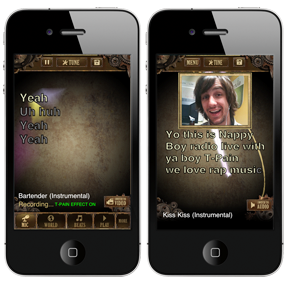 T-Pain Video is here!
Now you can create your own music videos straight from your iPhone 4 or 3GS, complete with the T-Pain effect and T-Pain's background tracks. Or, tune your pets, friends, or local law enforcement officials, capturing the result with video. With a single click, you can upload your video straight to YouTube.
The T-Pain Video feature is included at no additional cost to iPhone 4 and iPhone 3GS "I Am T-Pain" users. The iPhone 3GS requires iOS 4 to use the T-Pain Video feature.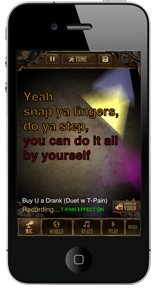 You ARE T-Pain
Sing into your phone and sound just like T-Pain! I Am T-Pain adds the vocal effect made famous by T-Pain himself. Transform your voice and get your T-Pain on with scrolling lyrics and original beats from the hottest producers.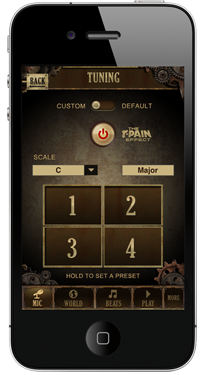 Authentic T-Pain Sound
Employing the same authentic T-Pain style voice/pitch correction technology used in recording studios around the world, I Am T-Pain creates, in real-time, the vocal effects made famous by T-Pain and utilized by other megastars like Kanye West, Lil Wayne and even Cher with her iconic hit Believe.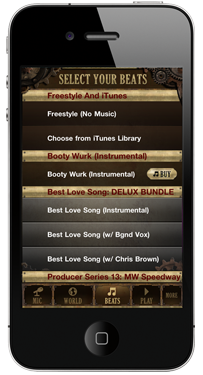 Sing Along or Do Your Own Thing
Use I Am T-Pain, with your headphones, to record your own songs, or connect your iPhone to an external speaker and perform in front of your friends and fans. Sing the nine songs included in the app, purchase premium tracks, go acapella or give your voice the T-Pain effect while singing along to any song in your iTunes library.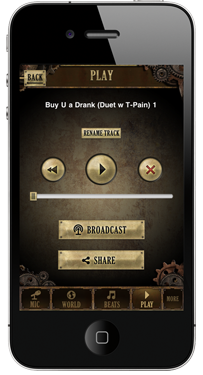 Share Your Songs via Facebook, Twitter and Email
Once you've recorded your songs you're going to want people to hear them, right? Sharing your creativity with the world is easy. Just upload your performance, and you can post it on your Facebook wall, share it on twitter and email it to your friends.
| | |
| --- | --- |
| Smule is a premier developer of interactive sonic applications for the iPhone and iPod touch. Smule's applications, including Ocarina, Leaf Trombone World Stage and Sonic Lighter, have been described as "magical", "addictive" and "instant classics" and have topped numerous iPhone app top-10 lists. To date, Smule apps have been downloaded more than 2 million times. | T-Pain is a groundbreaking American hip-hop and R&B singer, songwriter, and producer. In addition to releasing three best-selling albums of his own and numerous hits for other rappers, T-Pain has had over ten top-10 singles chart on the Billboard Hot 100. T-Pain has received Grammy, BET and Vibe awards, and he was rated 34th of the most influential people in the world. |