I Am T-Pain: How To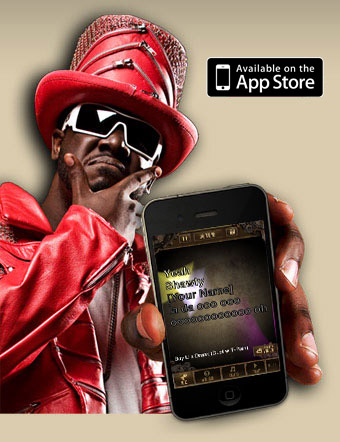 Becoming T-Pain is Easy
Getting started with I Am T-Pain is easy! When you load the app you'll be reminded that I Am T-Pain is best used with headphones. Alternatively you can plug any speakers into the audio output for a more social experience.
I Am T-Pain contains four easy to use sections: MIC, TUNE, BEATS, and PLAY, which transform anyone into a recording artist. If you choose BEAT, a karaoke screen to guide you through the lyrics of the song can accompany you. The MIC prompt gives you freestyle mode while the TUNE prompt allows you to change the actual sound settings. The PLAY screen helps you with your recording and includes the option to email your songs to friends, or to publish them for the world to hear.
Share your Tracks with the World
Record yourself singing like T-Pain and share your tracks with the world on Facebook and MySpace, using Smule's new I Am T-Pain Widget. Your recordings are also shown on your own My Songs page, where they can be played right from this website. And if that's not enough, you can email your favorite tracks right from your phone.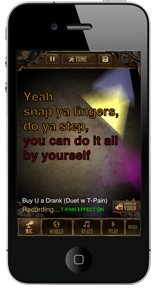 MIC
After the countdown you are ready to start using singing, and the T-Pain sound effect is on. This is freestyle mode- where you can sing whatever you want. The app automatically starts recording your voice, so if you like how you sound, you can send your creations to your friends.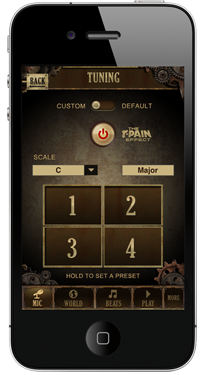 TUNE
If you want to customize the key and mode of your sound settings, just press the TUNE setting. Once you're on that screen, just tap and hold one of the four preset rectangles to save your settings. If you want to turn the T-Pain sound off completely just flip the tuning switch. Now the app will function as a regular microphone. If you aren't too sure what key or mode you want to be in, flip the switch at the top to T-Pain to let Pain choose settings for you.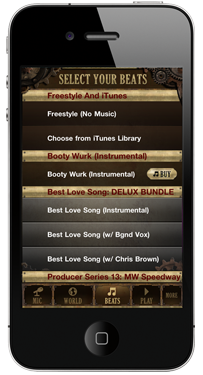 BEATS
Are you ready to be T-Pain? Go to the beats tab and choose your favorite T-Pain song or collaboration. There are plenty of tracks for you to try out right when you get the app. If you want more choices, there are additional tracks available for purchase too! You have your own recording studio, in the palm of your hands. After the track finishes downloading, you hear the music start. Don't know the words? Not a problem. They scroll across the screen as you are supposed to sing them just like Karaoke. If you aren't sure of the melody don't worry about that either. It sounds like T-Pain, anything you sing will sound good right?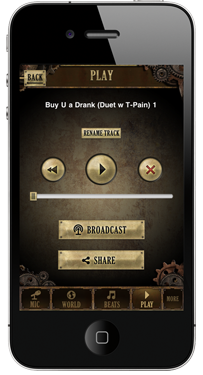 PLAY
Any songs you've recorded will show up in your PLAY menu. If you have songs you like, and you're ready to share them with the world, just tap the song name. You'll be able to listen to the track, and even rename it. You can then share with your friends through email or through Facebook and MySpace. Just follow the buttons and they'll lead the way.